Looking for the best night vision camcorders for ghost hunting? You're in the right place. These devices can be expensive, and most do not even have the right specifications for ghost hunting. We're here to guide you in the right direction so that you don't spend your hard-earned cash on something that doesn't even work.
While it's true that the ghost hunters on TV have a larger budget to obtain the best ghost hunting gear, that doesn't mean you can't do the same. Below, we list and review 5 excellent night vision camcorders depending on your budget and what you want to achieve.
Whether it's to convince a die-hard skeptic that ghosts truly exist. Or if you simply want to go on your own paranormal investigations. We've got you covered.
The 5 Best Night Vision Camcorders
1. Ancter 4K WIFI Full Spectrum Night vision Camcorder – Best Overall
The Ancter 4K WiFi Full Spectrum Night Vision Camcorder is my favorite simply because it is the highest performance full spectrum camcorder specifically made for ghost hunting. It has everything one would need to go on a paranormal investigation.
Featuring an IPS touchscreen, the camera can switch from infrared to full spectrum with a simple touch of a button. Handy for when you need to switch modes quickly in the middle of an investigation.
It has a 4K Ultra HD Wide Angle Lens and Sony-patented 24 MegaPixel COM Sensor. This ensures that you record only the highest quality videos and images.
The HD infrared night vision quality is superb. It does not need you to run the built-in infrared LED to work. It can run independently, giving you the best results. This is great, since battery life doubles when using the external IR.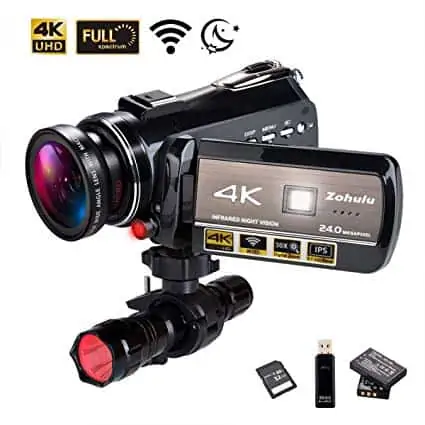 Speaking of battery, it includes an extra battery, giving it a whopping 220 minutes of total recording time. When it comes to storage, you get a 32GB SD card slot which gives you a whole lot of space for recording before it's full. Both extremely important factors for those ghost hunts that just go on all night.
Lastly, you will love that it has a Wi-Fi capability. This feature will allow you to remotely view and download files directly to your smartphone, tablet, or computer.
Before it was released, these features all went through a rigorous test of 2,000 hours to ensure there is no chance of failure. We strongly believe that you can't go wrong with this choice.
Notable Features
4K Ultra HD Video Resolution
24 MegaPixel Image Resolution
HD Wide Angle Lens
IR LED Night Vision
IPS Touchscreen
30x Digitally Enhanced Zoom
Wi-Fi enhanced capabilities
Infrared Flashlight
1 Extra Super Power Battery
PROS
Made Specifically For Ghost Hunting
Fantastic Full Spectrum 4K Video Quality
Great Night Vision and Infrared Lighting
Easy Data Transfer
Good Speaker and Audio Quality
Smooth Touchscreen
CONS
Wifi Capability Is Difficult To Set Up
Not Water-Resistant
2. WEILIANTE Full HD Night Vision Digital Camcorder – Best Budget
 The WEILIANTE Night Vision Digital Camcorder is a great choice if you're on a budget.
It records video at Full HD resolution (1920x1080p) and shoots photos at 24MP. Plus, it is equipped with a 3″ LCD display that will show you the footage immediately after it is captured. This display can be rotated 270 degrees, so you can adjust it to whatever suits your needs.
It also features an infrared night vision function that will perform well enough when you have to shoot in the dark on your paranormal investigations. 
An added benefit is that all these settings can be changed instantly with a remote control.
The WEILIANTE will do a good enough job in most conditions. This is the best option for beginners or those on a budget as you can grab one really cheap on Amazon.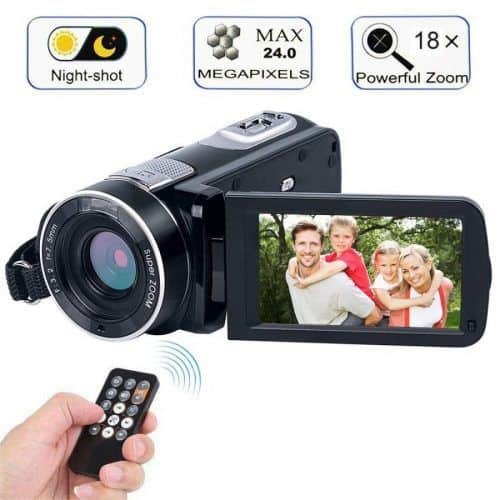 Notable Features
1080P(15FPS) AVI Video Resolution
24 MegaPixel Image Resolution
3.0 inch LCD Screen
IR LED Night Vision
18X Digital Zoom
Remote controlled
1 Extra Battery
PROS
Value For Money
Lightweight
Simple to Set Up and Easy To Use
Versatile
Quality Sound
CONS
Mediocre Night Vision Performance
Limited Functionality
Non Water-Resistant
3. Bestguarder Digital Night Vision Monocular with Camcorder
The Bestguarder Digital Night Vision Monocular with Camcorder is a close runner-up to the Ancter. It actually has a far superior night vision performance.
However, the problem is that it only shoots video at a 720p resolution, takes photos at 5MP,  and has a narrow field-of-view. This means that despite amazing night vision quality, you will be sacrificing photo and video quality. This might be okay if you are only going to shoot at night or in the dark. But if you're planning to shoot during the day, this could definitely be a deal-breaker.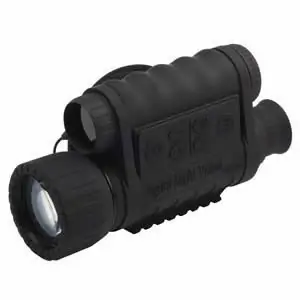 One thing the Bestguarder has over the other night vision video cameras on this list though, is that it is sturdy, water-resistant, and has an optical zoom that allows you to see 1,150 feet away in total darkness. Meaning you don't have to worry about wet weather or dropping it when you go ghost hunting. This camera camcorder is for those who want ultra HD infrared night vision performance and are willing to sacrifice video and photo quality during the day to achieve that performance.
Notable Features
720p Video Resolution
5 MegaPixel Image Resolution
High-Performance Digital Night Vision
1.5-inch TFT Display
Field Range In Total Darkness: 1150 Feet
PROS
Best Night Vision Performance – By Far
Great Viewing Distance In Pitch Black Conditions
Sturdy
Water-Resistant
Easy To Use
CONS
Only 720p Resolution
Field-Of-View Could Be Better
Manual Focus
4. Cleveland Paranormal Supply 4K UHD Night Vision Camcorder
The Cleveland Paranormal Supply 4K UHD Night Vision Camcorder is another video camera designed specifically for ghost hunting enthusiasts.
It has a max resolution of 2160p, meaning you are getting 4K quality when you are using this camera in any condition. And the night vision performance is decent enough to deliver respectable results.
Like the Ancter, you can choose between infrared and full spectrum night vision, depending on what type of videos you prefer.
With a wide-angle lens and good battery life, you can be out for the night and get a lot of footage with this camera. Overall, a decent night vision video camera.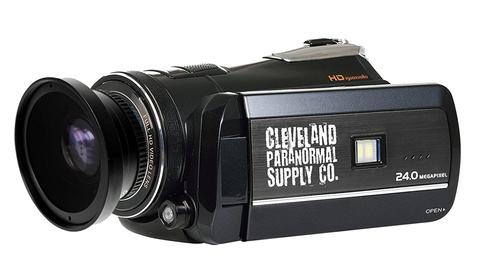 Notable Features
4K Ultra HD Video Resolution
24 MegaPixel Image Resolution
Infrared Night Vision
IPS Touchscreen
1 Extra Battery
PROS
Made Specifically For Ghost Hunting
Full Spectrum 4K Video Quality
Easy File Transfer
Easy-to-use Touchscreen
CONS
Night Vision Performance Is Mediocre
Not Water-Resistant
5. Besteker Night Vision Camcorder with External Mic
The Besteker Night Vision Camcorder with External Mic is one of the better budget camcorders with night vision. It isn't cheap, but the price is very reasonable for what you're getting.
You can record videos at 1080p Full HD and capture high-quality 24MP photos. It also comes with a good external microphone. Which can be very helpful during ghost hunts or paranormal investigations.
An added benefit is that it has the option of being remotely controlled. Allowing you to set it up on a tripod, and easily change settings from a distance.
You may not be getting top-class video recording quality or night vision capability, but the Besteker is definitely one of the best night vision video cameras when you consider it's price.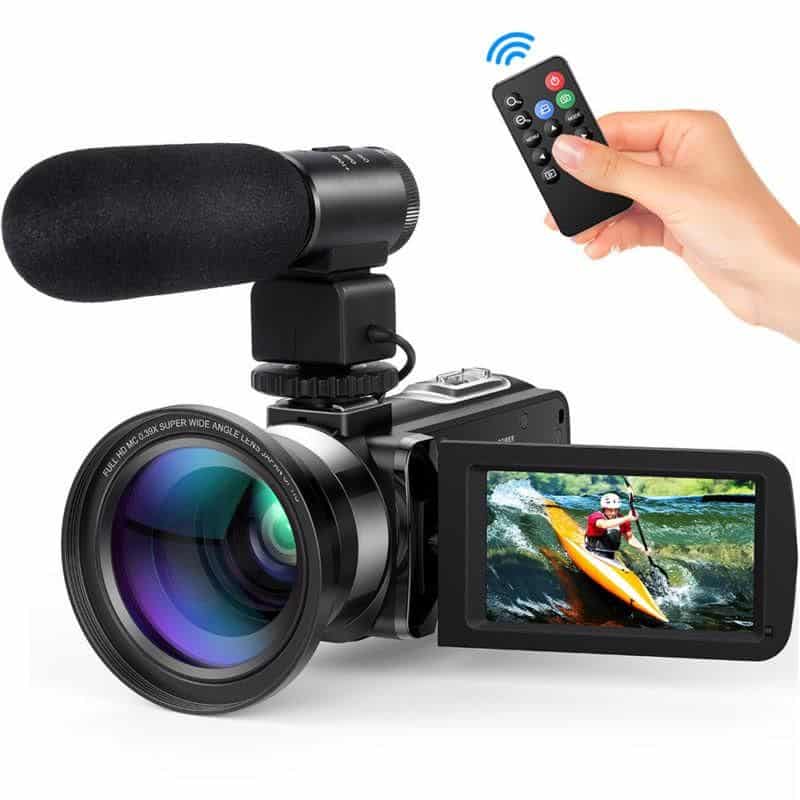 Notable Features
1080p Full HD Video Resolution
24 MegaPixel Image Resolution
0.39X Wide-Angle Performance
Infrared Night Vision
16X Digital Zoom
1 Extra Battery
PROS
Reasonable Price
Full HD Video Quality
Respectable Night Vision Quality
Great External Mic
CONS
Night Vision Performance Is Mediocre
Not Water-Resistant
Material Feels Cheap
Buying A Night Vision Camcorder – Things To Consider
Hopefully, we've been able to guide you to which video camera best suits your needs. However, there are a few more things to consider before you finally make your purchase.
Carefully look at the prices and the features they have to offer. You might end up buying something that will not meet your needs.
To avoid this, here are a few things to consider when buying the best night vision video cameras:
Battery Life
When it comes to ghost hunting and paranormal investigations, battery life is extremely important. You don't want to run out of battery in the middle of an investigation. Therefore, a night vision video camera with good battery life is absolutely necessary. On top of that, you need to make sure that you are always carrying extra batteries on you.
Photo And Video Quality
After a ghost hunt, you definitely do not want to have a difficult time seeing what you just captured. The camcorder you eventually choose should be able to give you high definition videos and images. If your videos and images are of low quality, how are you going to prove the skeptics wrong?
Stability and Durability
Everyone knows that it can get a little crazy during paranormal investigations. That's why it's very important to get a night vision video camera that can remain stable to capture all the craziness. You need one that can stand firm on a tripod and not easily be knocked over. And if it does get knocked over, you'll want one that won't just break upon impact.
Distance Of View
Depending on how far or close to the action you want to be during your ghost hunts, you'll want a versatile camcorder that can perform well in the dark at various distances.
Minimum Lux
Night vision video cameras are graded based on a minimum lux value. Basically, this is the minimum amount of light required for a night vision video camera to work properly in the dark. For comparison's sake, professional night vision cameras have a lux rating of 0.0001 lux. But cameras of this caliber are very expensive. For ghost hunting, you probably won't need something this extreme. Any of the models listed above should do.
Frequently Asked Questions (FAQs)
How Does A Night Vision Camcorder Work?
Night vision on camcorders is actually a pretty simple process, the most common one being infrared. When we look at images through night vision lenses, they appear in two sets of colors: black and green or black and white. This all happens thanks to the use of infrared light. When you switch on a night vision video camera, small LED lights flood the field of view with infrared light, which is invisible to the natural human eye. It is only when the camcorder goes into monochromatic view that your eyes are finally capable of seeing the images. This is because it is easier for the human eye to see and interpret black and white than it is with bright colors like red and blue.
What Are The Benefits Of Using A Night Vision Camcorder?
A night vision camcorder is simply a video camera that is capable of recording images in the dark. These cameras will allow you to capture high definition videos even when it's pitch black. These usually have a fair number of benefits and we list some of them below:
Capture high-quality photos, videos, and audio in pitch black darkness
Ability to see crystal clear from close and far distances at night
Amazing device to bring on ghost hunts and paranormal investigations.
Other than paranormal investigations and ghost hunting, they can also be used for night surveillance, fishing, and hunting when it's dark
Can I use my Night Vision camcorder during the day?
As you've probably already read above, most of these video cameras can actually capture high-quality videos and photos during the day. However, it is not safe to assume that other camcorders with night vision not listed above can be used during the day.
At What Distance Can I See In Total Darkness with a Night Vision Camcorder?
That is solely dependent on the camcorder you decide to buy. The distances will vary from one product to the next. If you take a look at the list above, you can see that the Bestguarder can see up to 1,150 feet in total darkness, which is truly quite amazing.
Where Can I Buy A Night Vision Camcorder?
You can easily find and purchase one on Amazon.
Conclusion
Night vision camcorders are truly an amazing tool for ghost hunting; imagine being able to see and capture high-quality videos and images in the dark. The perfect one for you does not have to be the most expensive. There are numerous options out there that are suitable for both beginners and professionals.
If money is not an issue and you want the overall best night vision camcorder, then go with the Ancter 4K WiFi Full Spectrum Night Vision Camcorder. If you're a beginner or on a budget, then the WEILIANTE Digital Camcorder is a great option. And for those who want the best night vision quality, something sturdy, and water-resistant, then go with the Bestguarder.
I hope this guide has been very helpful to you and that you've finally been able to make a decision. The fun really starts after you've purchased your night vision camcorder.